The Franklin-Cristoph Model 66 is a desk fountain pen from the American manufacturer. It blends simplicity and usability with a design that is versatile and reliable in its ability to function as a large capacity eyedropper or cartridge-converter pen.
Initially created for use at pen shows and fitted with the company's full nib selection, the Model 66 proved to be so widely acclaimed that Franklin-Cristoph decided to put it into regular production. It was most recently nominated as the "Distinctive Daily Writer" of 2015 by PenWorld Magazine readers.
Fitted with the company's largest nib in #6 size, Model 66 is also available with a wide selection of other nibs in steel and gold. This includes custom grinds and gold nibs tuned by Mike Masuyama of Mike it Work! The Extra Fine steel nib on this particular pen is smooth and wet, and wrote well out of the box – a testament to high quality control standards.
The primary feature of the Model 66 is that it is considerably longer and does not come with a clip – as its name suggests, it is a desk pen and does just that. It is therefore too unwieldy to fit in most pen cases or in one's pocket. The Model 66 does however feature a flat barrel edge which prevents it from rolling off a table. The surface is engraved with the words "Franklin-Cristoph Model 66". Like other pens from the brand, the Model 66 features block threads which are placed at the end of the grip section to facilitate comfortable writing.
Inky Passion had previously reviewed the Model 02 Intrinsic, which shares many of the same features. The Model 02 is a more portable writer compared to the Model 66 and the Model 40P here is absolutely pocketable – that being said, the Model 66 is especially well balanced in the hand especially during extended periods of writing.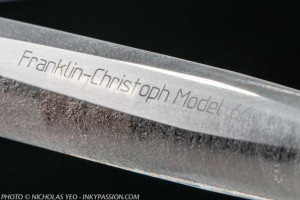 The Franklin-Cristoph Model 66 is a brilliant desk pen from the American brand. The Model 66 is made to be used, with a utilitarian construction that exudes understated beauty. The frosted appearance also allows one to view the ink contained within its internal cavity. Such a design may not be suitable for those obsessed with cleanliness.
* Owners of the Franklin-Cristoph and other fountain pens made of acrylic or plastic must beware of exposing their pen to alcohol – high percentage alcohol is known to be damaging to acrylic resins, and may result in cracks.
Pictured is the Franklin-Cristoph Model 66 in a translucent Smoke & Ice finish, fitted with an Extra Fine steel nib:
Pictured is the Franklin-Cristoph Model 40P in the same finish, fitted with a 1.1 Italic nib:
Pictured is the Franklin-Cristoph Model 02 Intrinsic in the same finish, fitted with a 1.9 Music nib: