Franklin-Cristoph started in the year 1901 as a family owned ceramics manufacturer. Today, it is based in North Carolina and owns a production facility in Houston, Texas. The company specialises in producing writing instruments, accessories and paper products.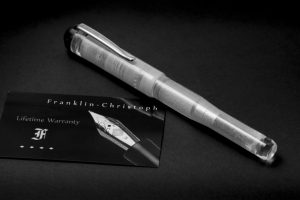 Franklin-Cristoph products are marked by their simplicity and durable construction – as seen in the Model 02 Intrinsic and Model 40 Pocket, among others. The company's leather "Penvelopes" have also enjoyed continued success worldwide.
Franklin-Cristoph fountain pens, leather accessories and paper products are available here in Singapore from Fook Hing Trading Co, an authorised retailer.
A look at the flagship Model 02 Intrinsic in Smoke & Ice
As its name suggests, the Franklin-Cristoph Model 02 is a full size fountain pen with a minimalist aesthetic. Constructed from acrylic, it comes in a variety of colours and a selection of nibs are available. The Model 02 that is currently on the market is a new edition which was released in 2013. According to the manufacturer, the new Model 02 has a thicker grip section and barrel.
The pen comes in a long slender black box that opens to reveal the Franklin-Cristoph logo and pen. Also included in the package is an international size converter and Lifetime Warranty card. The packaging is rather unimpressive, but considering that this is a pen to be used, I am not very concerned about the packaging and presentation.
Franklin-Cristoph's Model 02 feels really solid in the hand – it reminds me of my Stipula Etruria Rainbow Yellow, a limited edition piece that had a titanium nib. The Franklin Cristoph is however a cartridge-converter-eyedropper pen unlike the integrated piston filled Etruria. The pen is rather thick but not overly so. It also doesn't feel light or cheap like plastic.
The Franklin-Cristoph Model 02 Intrinsic is a very versatile pen – in addition to the possibility of using it with cartridges, a converter or as an eyedropper, a large selection of nibs are also available in both steel and 18K gold. The nib and feed can be easily unscrewed from the nib section by hand – something that will come in useful when cleaning ink that gets stuck inside.
Also available are custom grinds by Mike Masuyama of Mike it Work! – although Mike is a really busy man, I had a great experience with him – he tuned my scratchy Sailor 21K nib and it turned out really enjoyable to write with. There was some damage and one of the tines was longer than the other, but it was returned to me absolutely perfect!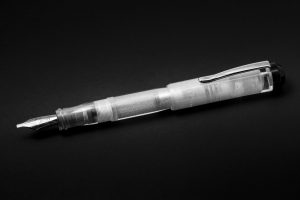 The Model 02 has a distinct tapered barrel design which allows the cap to be posted deeply. This helps to shift the pen's center of gravity lower, balance the pen and therefore reduce strain on the hand when writing with the cap posted. Posting the pen adds just a few millimetres to the length of the pen – a testament to the ingenuity of this design.
Another feature that I really like about this pen are the threads for the cap, which are shifted to the bottom of the pen just above the nib. This ensures that the threads cannot be felt by your fingers when holding the pen.
The Smoke & Ice finish is a controversial subject – some say the frosted finish of the innards are unique, while detractors feel that it shows the manufacturer's neglect of fine details. That being said, the frosted finish does help to conceal dirt, dust and ink that is often seen in demonstrator pens.
Ultimately, it is a matter of personal preference and for those who do not like the Smoke & Ice finish, there are other finishes available, such as the more traditional Black & Maroon or the eye-catching Solid Emerald finish.
Above the cap, there is a grey coloured acrylic finish, a nice contrast with the clear body. The cap top has the Franklin-Cristoph logo etched on it. Apart from this, there also a circular "02 Franklin-Cristoph" etched on the bottom of the cap in a discreet manner.
Having  tested the Franklin-Cristoph HPS 1.9 Music nib, I found it to be a really enjoyable nib to write with – it is wet but not overly so, and flow is well controlled. When writing, the nib feels just right – not too sharp such that it would skip if it were rotated slightly, but not too stubbish that it cannot produce sharp lines. This makes it more forgiving for those who aren't accustomed to writing with music nibs or italic nibs. The nib is stiff – as with almost every other steel nib in the market. A writing sample is attached.
The Franklin-Cristoph Model 02 Intrinsic is a strong performer, but I cannot help but feel there is much more room for improvement. At this price point, I believe the company should indeed pay more attention to the packaging and devote more attention to fine details. The customisability and versatility of the design are however redeeming qualities.
PROS
– Solidly constructed from quality acrylic
– Comfortable design, well balanced
– Nib is enjoyable to write with
– Fits international converter / cartridges
– Ideal for eyedropper conversion
CONS
– Smoke & Ice finish may not appeal to all
– Small imperfections in finish
– Uninteresting packaging
The Franklin-Cristoph Model 02 Intrinsic retails for S$230 or S$245 with a music nib. It is available locally from Fook Hing Trading Co or directly from Franklin-Cristoph.