The Graf von Faber Castell Intuition is a cartridge-converter fountain pen from the German manufacturer. It has a princely, trumpet shaped appearance made up of polished black resin, platinum plated accents, a spring loaded clip as well as a finely fluted and engraved knob. The fountain pen comes fitted with an 18K two-tone gold nib.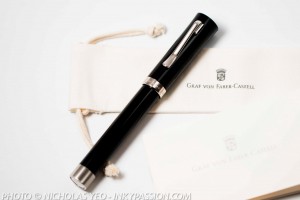 The Intuition comes in a wardrobe-styled cardboard box which has a magnetic closure. It includes an ivory coloured cloth pouch and guarantee booklet. The packaging is rather minimalist, drawing attention to the pen rather than itself. Nevertheless, it does not come across as cheap or thoughtless.
The regal looking Faber Castell Intuition is available in a number of colours and constructed from wood. The standard colour combinations are rather odd, which resulted in me choosing black. The "Terra" and "Ivory" models pair orange and white coloured barrels with a black cap while the fluted black and white barrels are eccentrically paired with smooth black caps. I consider it a serious mismatch.
Modern day fountain pens often suffer from misaligned tines, scratchiness or bad ink flow. What is unfortunate is that these problems only become apparent when a pen is examined under a loupe. Fortunately, Faber Castell is one of the few brands I have encountered which does not suffer from these issues. Their writing instruments are exemplary in delivering a pleasurable writing experience out-of-the-box, whether it is the entry level Faber Castell line or exquisite Graf von Faber Castell line fitted with 18K gold nibs.
The Intuition is an excellent performer when it comes to writing. The nib can be described as buttery smooth and extremely reliable to write with, even on copier paper. It has slight give, but should not be described as soft or flexible. I believe the tines have been meticulously rounded off at the edges, as I realised slight rotations of the nib to the right or left do not affect the writing experience. Flow is extremely well controlled and consistent.
The Intuition is unique in that it has a seamless, uninterrupted barrel which is free from screw threads or joints. The nib section and converter is deployed by rotating the knob atop the barrel – a simple but effective system of operation. The grip section is also slightly concave to accommodate the fingers and provide better ergonomics when writing.
I would prefer if the Intuition were weightier and more well balanced – presently, the pen is top heavy especially when posted. I would not suggest posting the cap for that reason, and also because it does wobble a bit. Those are issues I can live with, nonetheless.
To end off, I would stay that the only criticism I have of the Intuition is that it is rather pricey for a cartridge-converter pen made of black resin. The Platino version lists even higher while the Platino Wood series is exquisite and costs a princely sum. That being said, it isn't the most pricey black pen in the market, and it writes better than many of those adorned by a white star.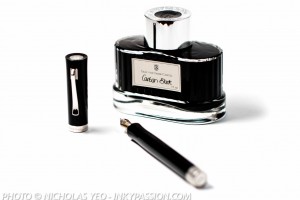 Graf von Faber Castell's Intuition is a pen I have put off buying ever since I got my first fountain pen approximately eight years ago. I am glad to finally own one, as I have always had great respect for the Faber Castell brand and appreciate their attention to detail, consistency and quality. I would certainly recommend one of these if you were looking for a reliable and understated daily writer.
PROS
– Extremely smooth nib
– Seamless, uninterrupted barrel
– Attractive appearance
– Beautifully engraved nib and parts
CONS
– Costly for a cartridge – converter pen
– Colour selection rather odd
– Rather top heavy when posted
– Does not post securely