Life gets in the way, the old saying goes. The same goes for any passion — like the ebb and flow of tides, there is a right time for everything.
Inky Passion was a news and review site focused on fountain pens and luxury writing instruments. It was founded and edited by a Singapore-based fountain pen collector since 2014.
The site faded into relative obscurity over the years since its founding as its editor embarked on various pursuits. However, the feature articles on the site had left an impression and readers would occasionally write to ask about viewing articles and photographs from the archives.
One such article was an exclusive interview with Japanese nibmeister Shinichi Yoshida, who visited Singapore for a pen clinic and revealed pieces from his personal pen collection.
Among other things, the illustrious man behind Nakaya sheepishly admitted an admiration for the over-engineered Pilot Justus 95 and his love for Singapore hawker food, which has since been recognised by UNESCO as part of humanity's intangible cultural heritage.
Seven long years have passed since its founding, and we decided to revive Inky Passion.
With this, our focus on storytelling continues. We have republished the old pieces and new ones are forthcoming, with a broader focus apart from pens. Inky Passion is, after all, not merely a site about pens. It is a platform about art, craft, design, culture and passion which transcends physical forms.
Above all else, the site is a means of renewing our our love for artistry, craftsmanship and design.
We begin, then, with a self reflexive exploration of some of the reasons for this author's lengthy hiatus and elucidating upon the various phases that collectors go through.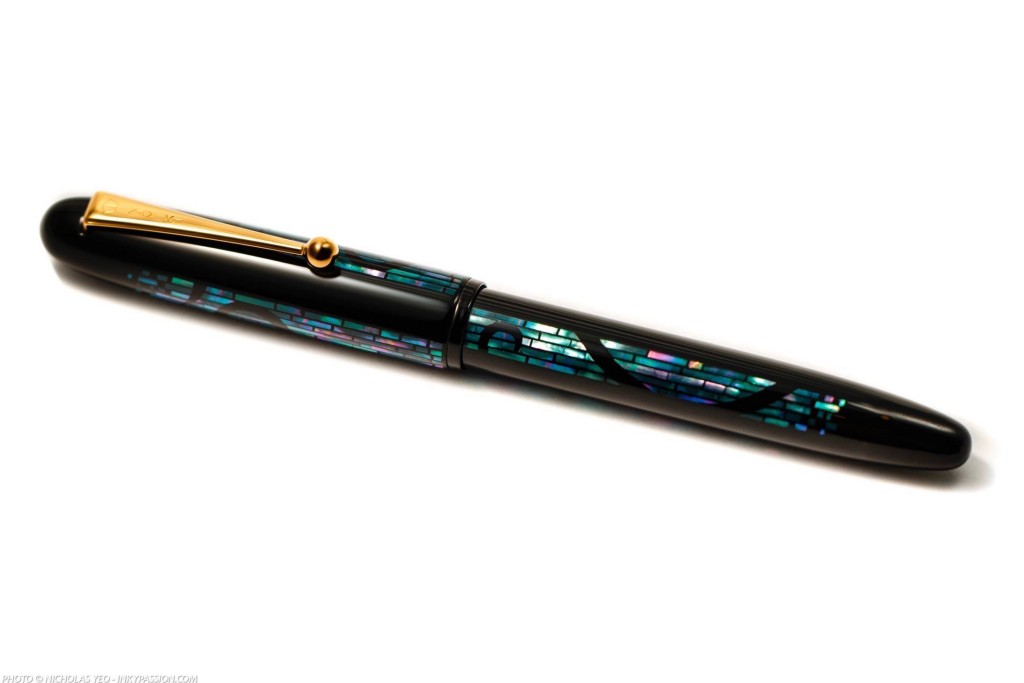 Moonshot
This author's grail pen was the Namiki Yukari Moonlight Raden.
Comprising strips of iridescent abalone shells inlaid onto urushi and punctuated by waves formed by negative space, it was one of the most abstract designs in the Pilot-Namiki Maki-e collection.
The pen epitomised a contemporary aesthetic in Maki-e art. Whereas in the past traditional Japanese motifs and shimmering gold were applied onto Maki-e pens, plain urushi and abstract Maki-e models from brands like Nakaya are now commonplace.
Over the years, the author came upon many pens from Italy, the United States and more, but continued to focus on Japanese Maki-e pieces and German workhorses from major brands.
Pens from other parts of the world tend to be more temperamental — Italian pens, for example, are rather flamboyant in terms of design but not nearly as reliable, though that has improved over the years. Celluloid pens from now defunct Omas were known to deteriorate, with warping, discolouration and plating issues.
Every collector has a grail pen, but the journey towards that supposed ideal isn't so straightforward.
A pattern soon emerges – pens in the S$100-400 price point are the easiest to pull the trigger on as they only cost a fraction of one's monthly wage. A fountain pen lover quickly finds that many of such pens will fill the drawers, with no end in sight.
Demonstrator pens are a good example — in the past half decade or so, brands like Sailor have been introducing 'Cocktail' demonstrator pens in a myriad of colours. In terms of design, most are cartridge-converter pens and take the form of the Professional Gear Slim, Professional Gear and King of Pen(s).
The Sailor Pro Gear Kure Azur is a rather enchanting design and one of the latest in the series. Its sparkling, clear blue resin is punctuated by an almost luminescent yellow cap finial.
More recently, Sailor has introduced Professional Gear Realo (piston mechanism) Limited Edition designs. The emerald green demonstrator retails for a whopping S$956 | US$720 on eBay, without shipping.
Given such prices, one might quickly experience fatigue from spending too much on the hobby. At some point, a consolidation phase would set in. This happens when a collector decides to sell off various pre-loved pens to fund other purchases or hobbies.
New adventures
Collecting is like an affliction — whatever the object of desire, there is always a compulsion to accumulate more and more. Remember that old song by the American rock band Garbage? Indeed, as the lyrics go, the world is not enough.
When this author kindled a love for tea and ceramics, the drawers quickly became filled with many pieces — whether it be tea pots, cups, bowls or other vessels. Apart from pieces which are fired in an electric kiln, there are also other techniques prized by collectors.
Gas and wood fired wares are distinctive as no two pieces are alike. They are a "beautiful accident" and either emerge or are consumed, broken by the unpredictable flames of the kiln. The fissures and cracks in many ways mirror the reality of life.
"Only the dead stay seventeen forever."

Norwegian Wood (Haruki Murakami, 1987)
Each of us, too, is a little broken inside. In the literary world, they call it the human condition.
We are bound by one of the rules of life – that everything is transient and that passion is often fleeting. The flame that burns twice as bright burns half as long. Love is often celebrated as being as perennial as the grass, but it too is ephemeral.
To put it more crudely, everything has an expiry date. While that may at first sound tragic, perhaps it is a beautiful thing. After all, how can a thing be precious if it doesn't end? So maybe we might reconsider each time we utter the word "forever".
This theme is explored poignantly in the film Chungking Express (1994, dir. Wong Kar Wai). The protagonist in the film is played by a young Takeshi Kaneshiro, who finds himself dumped by his lover.
He Zhiwu (Cop 223) throws a fit in a convenience store and rants about expired cans of pineapple, which serve as a filmic metaphor for his failed relationship.
He laments: "Somehow everything comes with an expiry date. Swordfish expires. Meat sauce expires. Even cling-film expires. Is there anything in the world which doesn't?"
"If memories could be canned, would they also have expiry dates? If so, I hope they last for centuries."

Cop 223, Chungking Express (1994, dir. Wong Kar Wai)
While gorging on the sour fruit, he soon comes to accept the inevitable eventuality — the object of his desire will not be returning, and it is time to move on.
As humans, we have a propensity to cling to things, but at some point we have to let go. It this feeling of dread that persists each time one lets go of something.
As people, we are caught in time and its displacements, with no escape. Such is the romance of a beautiful mechanical wristwatch amid a digital world. The symmetry of the dial is punctuated by the polished facets of the indices and case which glisten in the light.
The paradox is that when it comes to the movement buzzing in the background, no watch is perfect and each piece either gains or loses time. Why, then, do we wear them? Perhaps philosophically, they are a constant reminder of our mortality. Wound up, they tick away and impel us toward eternal nothingness.
It is this sentiment that motivated this author's brief dalliance with a beautiful three-hander Grand Seiko timepiece. It is also the same emotion that motivated a later search for a 1971 King Seiko Chronometer. Remarkably, after half a century on the movement continues to tick on, whilst the case has come to bear the traces and scars of time.
Whatever the object, each leaves us but in some way it never does. It has become a part of us, one with us. It may someday grow distant, but always lingers in the dusty recesses of the mind.
Renewing an interest
There is something intrinsically beautiful which transcends all art and craft. The common thread is simple but profound — story. Story is what makes a meaningful collection, what motivates curators in a museum and what commands high prices in an auction catalogue.
The same applies to many if not all fields — from the delicate hand finishing of a fountain pen to exacting industrial design, fine watchmaking, a literary work or the processes, textures and aesthetic of handmade ceramics. The same applies, even in the processing of consumables like tea, coffee, chocolate, wine or whisky.
It is these stories that we will endeavour to bring you here on Inky Passion.
Watch this space for more news, reviews, features and opinion as well as tastefully curated products on the online store.
The Editor,
NY