In this exclusive interview, Inky Passion speaks with esteemed Nakaya nibmeister Mr Shinichi Yoshida on the sidelines of the Nakaya Pen Clinic hosted by Aesthetic Bay in Singapore. Over dinner, fine wine and a glass of 18-year-old Suntory Hakushu, Yoshida-san shares some of his experiences on the job.
---

What pens do you currently have in your daily carry?
Yoshida-san currently carries with him five Nakaya pens in a midori (green) coloured leather pen roll from the Nagasawa Pen Den in Osaka. They include the following:
Nakaya Pernambuco Wood: Made from the same wood famously used by Graf von Faber Castell but in a much darker hue.
Nakaya Kago-amime: Basket mesh design in araishu (reddish-orange), made of urushi lacquered ebonite and overlaid with woven bamboo strips crossed in many directions.
Nakaya Piccolo Ayakashi: The eye of a monster peeks out perilously, closely resembling the US$5700 Ayakashi Shu Koboku. It  depicts the eye of an apparition peering through a crack in a shu (red) wall. The "wabi-sabi" design features cracks which are applied to the pen in a process called "negoro", which usually takes more than six months.
Nakaya Piccolo Titanium: Made of solid titanium, this piccolo model is hefty and indestructible. In an emergency, it could even function as a window breaker.
Nakaya Dorsal Fin 1 Ao-tamenuri: Painstakingly layered over a period of months, the urushi lacquer on the Dorsal Fin model eventually takes the shape of a fin characterised by a deep, dark turquoise hue. This devil is in the details when it comes to the two Dorsal Fin models. Dorsal Fin 2 differs in that the fin is moulded as part of the ebonite rather than layers of urushi lacquer.
Nakaya pens are the most readily available to Yoshida-san, as they can be found all around his workspace. He uses Extra Fine nibs for normal writing, and sheepishly admits that he also likes Pilot's Justus and MYU701. One does not imagine that he would say the same if company president Toshiya Nakata was around.
What are some common requests from customers in Japan?
Many customers who purchased Nakaya pens often seek Yoshida-san's help to tune pens from other brands such as Mont Blanc. Ink flow issues are a common problem for many European brands. Although it is not their policy to adjust pens from other factories, Yoshida-san often obliges them anyway. However, he recommends that they return the pens to their original manufacturer.
What are some challenges you face when manufacturing pens and adjusting nibs?
Yoshida-san says that his job is never easy – each case that he encounters is a challenge. Sometimes, customers ask for the impossible – holding a pair of chopsticks to demonstrate, he recounts the case of a Japanese doctor who likes to examine nibs under a magnifier, and who does not like to see a space between the tines. Unfortunately, by reducing or removing the space between the tines, capillary action does not occur and there would be ink-flow problems. He had no choice but to explain this to the doctor.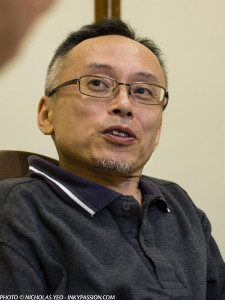 Manufacturing pens also takes a very long time – it takes Yoshida-san one-and-a-half-hours each morning to journey from his home to the Nakaya office in Taito-ku, Tokyo. Manpower is limited – there are four people in the office at each time including Yoshida-san. They include two ladies, one of whom is Ms Sayaka Tanabe, an English-speaking colleague who has also accompanied him on this visit to Singapore. Sayaka-san is fluent in communicating, and plays the crucial role of a translator. One year ago, Sayaka-san started to learn how to adjust nibs. Today she is able to do so with confidence, but she reckons it will takes another fifty years before she becomes an expert.
Nakaya experiences a backlog of hundreds of pens at any given time – he regrets that it sometimes takes months and or even years to complete an order. One time, it took more than two years for them to process an order. Yoshida-san explains that it takes many years before a craftsman can do dedicated work, and that in many cases, each craftsman is specialised in making one colour or type of pen.
What do you enjoy doing when you aren't tuning fountain pen nibs?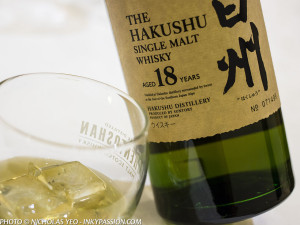 Yoshida-san enjoys having a good drink with friends at a bar near to his home when he is off work. He enjoys Japanese malt whiskey and vermouth, but his favourite drink is blended Scotch. Here in Singapore, Mr Yoshida enjoyed a glass of Suntory's 18-year-old Hakushu Single Malt Whisky.
What countries has your job taken you to?
Yoshida-san has visited the D.C. Fountain Pen Supershow in the United States as well as the Chicago Pen Show. He met nibmeister John Mottishaw when the American visited Japan two months after the disastrous earthquake and tsunami in 2011.
What is your favourite food in Singapore?
Yoshida-san has been to many fine dining establishments in Singapore, but most of all, he enjoys eating chicken rice from food courts and hawker centres. He has visited Newton Circus during his previous visits, and enjoys cockles and a glass of Tiger beer.
---
Mr Shinichi Yoshida of the Nakaya Pen Company is in Singapore on the 25th to 27th of August 2015. Those who are interested to attend the nib clinic should bring along their Nakaya and Platinum pens, or purchase a pen to have its nib adjusted on the spot. For enquiries and to RSVP, you may reach Aesthetic Bay by sending them an email or contact Ms Ivy Tan at +65 67356788.
This interview was translated into English from the Japanese language. In spite of linguistic differences, all efforts have been made to ensure accuracy.
Photos: Nicholas Yeo / Inky Passion