Fook Hing Trading Co and Online Germany have announced the Vision Celebratory Colours Limited Edition, a numbered edition of 50 fountain pens released in commemoration of Singapore's golden jubilee.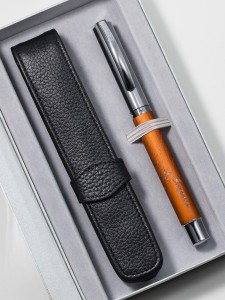 Following the success of the Online Vision Special Edition Calligraphy Set, the local retailer and German manufacturer have launched a new set of Limited Edition fountain pens to cater to demand for a normal fountain pen, while at the same time raising funds for charity.
Each pen retails for S$50, and all proceeds from the sale of the pens would be donated to the Community Chest via a donation box placed at the store. Customers are also free to contribute more if they wish.
Each one of the Celebratory Colours fountain pens is engraved with a serial number from 1 – 10, and will feature the SG50 logo. Similar to the Calligraphy Set, the Celebratory Colours fountain pen features a matte aluminium barrel which bears a diamond engraved map depicting Singapore's position in South East Asia.
The Celebratory Colours Limited Edition now comes in Extra Fine, Fine, Medium and Broad nibs. It is available in Blue, Champagne, Green, Lilac and Orange, and comes packaged in a gift box together with a leather pouch, commemorative card and international converter.
Photos: Nicholas Yeo / Inky Passion for Fook Hing Trading Co