Faber-Castell relaunched its flagship store in Singapore with an event at ION Orchard on Friday evening. The boutique saw renovations earlier in the month, and now sports a refreshed look with youthful decorations.
The event was attended by Count Andreas Wilhelm Eberhard von Faber-Castell, Managing Director of A.W. Faber-Castell Asia Pacific and brother of company CEO Anton Wolfgang Graf von Faber-Castell.
He was accompanied by Mr Frank Schleicher, Managing Director of A.W. Faber-Castell Retail GmBH as well as Mr Joel Frommann, Area Manager of A.W. Faber-Castell Asia Pacific. Frank and Joel had spent days painstakingly perfecting the decor and product placement in the boutique.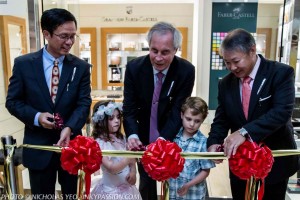 Also present were Mr Yandramin Halim, Managing Director of A.W. Faber-Castell Singapore, and Mr Tan Fong Kum, Managing Director of retailer Aesthetic Bay and his wife Ms Connie Tay.
Said Count Andreas in his speech, "As an old pencil salesman, I'd like to thank our customers, our pen collectors – children of course are a very big customer of ours for drawing and colouring. I thank them and I am very delighted to be here."
"Believe me, Faber-Castell will be prospering over the next two-hundred and fifty-four years – because that's how old we are now – with the same attitude and mentality that made us big, and that is to produce the best that is possible to be produced."
He ended with a piece of advice that all writing instruments manufacturers would do well to heed: "Quality lasts, low quality very quickly is forgotten. When you look at our brand, we are proud to always offer you, at any price, and I mean any price – the best of its class."
The event saw the attendance of over 60 guests which included customers, regional guests and industry partners. It opened with a lion dance and ribbon cutting ceremony, after which guests were served light snacks and wine from the Castell Winery in Germany. The Fürstlich Castell'sches Domänenamt is one of the country's largest private wineries and part of the Faber-Castell family empire.
Local calligraphy enthusiast Susan Lui penned the names of guests on cards, while artists from Collateral Design Studio sketched caricatures for guests. They also drew the Singapore cityscape with Faber-Castell PITT artist pens and graphite pencils.
Also on display was the exclusive Graf von Faber Castell SG50 Snakewood Limited Edition set. The Snakewood Limited Edition pays tribute to Singapore's 50th Anniversary, and does so in style with a set of writing instruments constructed from precious wood, as earlier reported on Inky Passion.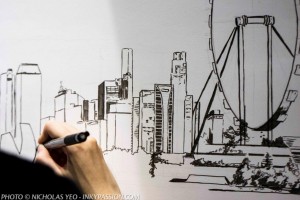 Founded in the year 1761, the centuries old Faber-Castell company of Germany is one of the world's most esteemed makers of fine writing implements. The Faber-Castell boutique at Ion Orchard is run in collaboration with retailer Aesthetic Bay, which is situated just beside it.
Inky Passion wishes the A.W. Faber-Castell company and Mr Tan Fong Kum of Aesthetic Bay the heartiest congratulations on the reopening of their splendid boutique! It was truly an evening to remember, and the start of an exciting new chapter.
The Faber-Castell boutique's new look:
Photos from the event:
Photos: Nicholas Yeo / Inky Passion