The Pilot "Pensemble" is a pen wrap (roll) that fits five writing instruments. Launched last year, the Pensemble or "Pensanbaru" in Japanese is made of high quality "kip leather" or calfskin. The name is coined with the words "pen" and "ensemble" – which immediately brings to mind a group of musicians. However, the word "ensemble" also refers to a group of items viewed together as a whole.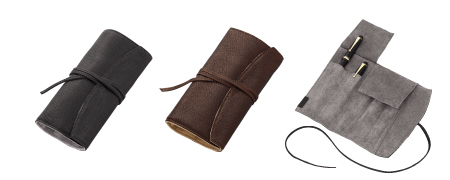 Pilot's Pensemble comes in black and brown leather and five formats are available – a single pen roll, three pen zipper case, five pen roll, as well as three and five pen rolls with a separate zipper compartment for storing accessories or cartridges. With the exception of the three pen zipper case, all Pensemble cases are rolled closed and held together by a leather string.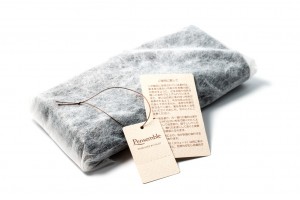 The Pensemble comes in a grey gift box. It is wrapped with a dust cover and there are two tags in the box which are printed in Japanese. The smell of fresh leather is apparent the moment the box is opened. It is quite pleasant and I immediately felt the product was one of high quality.
What is really attractive about the Pensemble is its exceptional leather quality and workmanship – the soft, supple leather is thin, comfortable to hold and looks really classy. It also lies flat, unlike my Aston five pen roll. The higher end Pilot Somes leather collection costs multiples of the price of one Pensemble, holds a maximum of three pens and is made of much thicker cowhide.
The Pensemble has five slots lined with suede leather, and each will hold one thick fountain pen or two slim ones. There is enough allowance for each pen so it would not be necessary to use force when sliding a pen in or out. The two slots on the left accomodate larger pens, and I was able to fit a Mont Blanc Heritage 1912 with more room to spare.
The height of the Pensemble is perfect, and it can easily accomodate pens the length of a Pilot Custom 823. I would not recommend putting two fountain pens in one slot as this may cause scratches or damage, which defeats the purpose of using a pen case in the first place.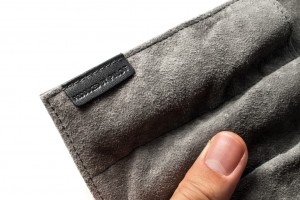 Having done some research on the Pilot website, I discovered that the interiors of the Pensemble are lined with pig suede – distinguished by the small dots which were the pig's hair follicles. Suede is the flesh side of the skin which is trimmed very finely and brushed to give a soft, supple texture. There are two of these suede flaps to prevent the pens from falling out and also to protect the clips from damage.
Suede is really luxurious to hold and touch, and therefore an ideal material for protecting expensive writing instruments. Here's the catch – pigs are considered impure to people of certain faiths, and therefore the Pensemble may be unsuitable to use and touch due to religious sensitivities. Do keep this in mind when handling the Pensemble near people who may be offended.
The Pilot Pensemble 5 Roll Case is available online and retails for approximately SG$100 on eBay. That is a very reasonable price to pay given that single pen pouches of lower quality have retailed at multiples of this price. The Pensemble was previously reviewed by fellow blogger Teoh Yi Chie of Parka Blogs.
* The Pilot Pensemble was a Christmas gift from a friend and fellow fountain pen lover. Thank you so much for this awesome gift, I am still too thrilled to actually use it but will eventually do so.