The Kaweco DIA was first introduced in the 1930s. It is available today as a modern reissue in silver and gold trims. The DIA is distinguished by its straight barrel, while the newer DIA2 has a screw-on cap and ergonomic curves on the barrel and nib section. The DIA is no longer listed on the Kaweco website but remains available from some retailers.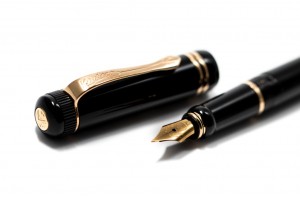 The pen features attractive vintage styling reminiscent of the pre-war era. This is evident in the clip, engravings and knurled finish. The knurling gives the impression that the pen has a piston knob, however it is cartridge-converter filled.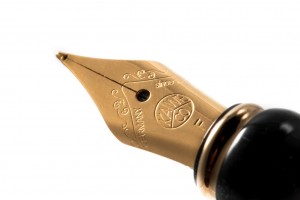 The Kaweco DIA has metal innards, which give it a nice weight though it is manufactured from acrylic. As with all Kaweco pens today, the pen comes with a steel nib made by Peter Bock AG. A gold nib is available as an optional part – a worthy upgrade for those who wish to enjoy a luxurious writing experience. The DIA is also compatible with a separately sold acrylic pen stand in black with gold trims.