Staedtler – a German brand synonymous with pencils and technical instruments in Europe – has launched its new "Staedtler Premium" range of fountain pens in Singapore.
Interestingly, the Staedtler Foundation owns all shares of the Staedtler Group since 1997. The Staedtler Foundation is "dedicated above all to the promotion of innovative ideas and the perpetuation of knowledge." and "promotes scientific research at national universities and polytechnics. It also supports cultural projects closely concerned with the subject of education."
"Lumograph" pencils were standard issue way back in school, and one may still vividly remember the "Triplus" office set which contained a fineliner, ballpoint pen, mechanical pencil and highlighter.
The all-in-one office set is still on sale today with the same ingenious packaging that functions both as a case and stand for the ergonomically designed triangular writing instruments.
In the same light, Staedtler Premium's high quality writing implements and accessories are backed by the brand's technical expertise and inspired by the values that led to the founding of the Nuernberg based company by J.S. Staedtler in 1835.
The Initium and J.S. Staedtler collections differ in that the former has an understated appearance while the latter offers sophisticated workmanship, exclusivity and design with a price to match.
Make no mistake – the Staedtler Premium Initium collection is no compromise, as the following review will illustrate.
Staedtler Premium Initium Lignum Plum Wood Fountain Pen
INTRODUCTION: The Staedtler Initium Lignum is my first fountain pen from the German brand. It comes in a few editions named in Latin – Resina (resin) Lignum (wood) and Corium (leather).
I opted for the wood version because I liked its earthy appearance, natural feel and admired the contrast between its natural wooden grain and matte chrome accents. Those who have read my previous reviews on The Fountain Pen Network would already know that I have a weakness for wooden pens and own quite a number of Japanese ones.
The Initium Lignum comes in a cardboard box with an elastic closure. The box contains the pen wrapped in plastic and beneath it lies a small catalogue of the different models as well as care instructions and a guarantee booklet.
Appearance & Design (8/10) – The Staedtler Initium Lignum, like most of the Initium collection, comes with minimalist German design.
An exception would be the Corium Urbes line which is something like the Corium Simplex line, featuring metropolitan city skylines imprinted onto the pen's leather surface. There is even a Singapore themed pen that features a sketch of the Singapore Flyer and Marina Bay Sands.
Like its name suggests, the Initium Lignum is constructed with a high quality wooden finish. Two colours are available – brownish Plum wood and beige Maple wood. Like any natural material, each piece has its own distinctive grain and no two are alike. As a personal preference, I finally chose the Plum wood over Maple.
The Plum wood does have a wooden scent though the scent is not very apparent until to put your nose to it. The wood has a tactile surface and feels great to hold. It does indeed appear like a natural material.
The Staedtler Mars logo appears on the top of the cap while the brand "STAEDTLER" is proudly engraved on the back. At the bottom of the cap, "MADE IN GERMANY" reminds us that the pen is constructed to the most exacting standards we have come to expect of German brands.
Construction & Quality (10/10) – The Staedtler Premium Initium Lignum deserves top marks for construction and quality. The moment I picked up the pen, I could feel that there was no compromise in quality and construction, and the execution of minute details was not neglected.
It didn't take more than one and a half twists to remove the cap, so making short notes will be manageable.
Giving the pen barrel a light squeeze, the wood felt firmly attached to the barrel without any creaking sounds and was seamlessly integrated with the matte chrome metal parts – a testament to the technical superiority of the Staedtler brand.
Everything was executed flawlessly – while removing the nib section, I could hear no screeching sounds and did not see rough edges on the inside. The nib is also well executed with an unassuming Staedtler logo and the nib size etched on it.
I am thoroughly impressed by the construction quality of the Initium Lignum, given the price point. The pen is truly a tank, and will last for generations if used the way it was intended.
Weight & Dimensions (8/10) – The Staedtler Initium Lignum is an extremely hefty pen, and understandably so because it is constructed of metal. It isn't extremely large or long so it would suit anyone.
The cap on the Initium Lignum is particularly heavy so I feel that it does better left on the table. That being said, it is still possible to post the cap and write. I would not recommend posting it for fear of damaging the wood and due to the fact that the pen could become significantly more top heavy.
The weight of a pen is often a matter of personal preference – some find heavier pens more effortless to write with while others say it causes fatigue. In my opinion, the weight and dimensions of the Initium Lignum make for pretty effortless writing.
I find that with heavier pens one doesn't have to exert too much downward pressure when writing, and can glide the nib over paper.
The considerable weight of the Initium Lignum does truly make a statement about Staedtler's dedication to creating serious value.
Here are some technical specifications for those who'd like to know:
Weight: 50 grams
Length with cap closed: 10.37 cm
Diameter: 1.25 cm
Nib & Performance (7/10) – The Staedtler Initium Lignum is a pen that delivers in almost every department. However, it is my honest opinion that the steel nib has great potential for its out of the box performance to be further improved.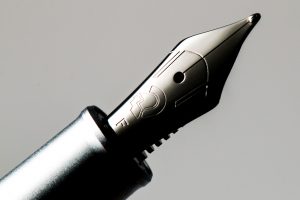 In writing, I can feel slight feedback throughout the strokes, especially on lower quality copier paper. It is definitely pleasant on the smoother pages of my Japanese made Life Noble notebooks. I have observed that some fountain pen users actually do like this feedback and I am curious if the 18K gold nib on the J.S. Staedtler line is similar in feel.
Visually, the Initium Lignum's steel nib is definitely well made – polished nicely and engraved with a Staedtler Mars logo. Examining it under a loupe, I can tell that there is no serious flaw or misaligned tines. I opted for the F nib because I like finer lines and have small handwriting. Ink flow is well controlled, so that compensates slightly for the feedback.
The Initium Lignum steel nib is stiff, and like most of the other Steel nibs in this price range that is unsurprising. The nib isn't overly stiff though, and is still pleasant to write with.
There is nothing stunning about the steel nib from Staedtler, and it would be unfair to demand a gold nib in this price range. I must say that my experiences with other German and Swiss made pens with steel nibs of similar size have been better, though some believe that steel nibs do improve after consistent use. Hopefully it will smoothen out over time.
Filling System & Maintenance (8/10) – The filling system of a pen is one of the important aspects – akin to the fuel tank of a car. Fortunately, the Staedtler Initium Lignum utilises the standard European converter.
One issue with some fountain pens is the tendency of the converter to rattle inside the barrel of the pen. Staedtler has ensured that the converter is firmly fitted and would not pose that issue.
There isn't much else for me to say here except that it does a commendable job and has great capacity. The fact that a standard converter was used also means that maintenance is a breeze and replacements can be obtained easily and affordably.
To reassure us of their commitment to quality, the Staedtler company guarantees that any defects or failure within a two year period will be repaired or replaced at no cost.
Cost & Value (9/10) – The Staedtler Initium Lignum isn't a stunner but delivers compelling performance and great value for its price point. The weight of the pen together with its quality wooden finish and overall appearance do justify the cost.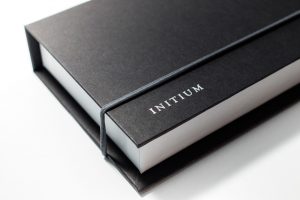 Being a fairly new product range, it is natural for people to make comparisons with competing brands. We should however judge each product for its own merits and give the brand a chance to show us what they have to offer.
With a long history and great technical know how, I am sure that there is much more to come in the near future, and the exclusive J.S. Staedtler collection is definitely worth a look.
The Staedtler Initium Lignum is priced at S$210 including tax, here in Singapore. That is approximately US$167, €130, or £102.
Conclusion (Final score, 8/10) – It was pleasantly surprising to hear that Staedtler had launched a premium range of pens last year, because I never associated the brand with fountain pens but rather, pencils and technical instruments.
Until Staedtler, there was from my knowledge probably only a singular German brand (which needs no mention) nearly unchallenged in its manufacture of premium range wood fountain pens. Staedtler is a welcome addition to the mix and I will be closely watching what they have to offer.
The harmonious combination of wood and high quality matte chrome exudes both warmth and modernity, fitting my collection perfectly. I admire clean-cut designs with a sobering appearance.
Staedtler's design is sensible and elegant – not too pretty to carry around, to be used. With timeless qualities that would never grow out of fashion, one would enjoy the pen tremendously in daily use, and for a long time to come.
Staedtler Premium fountain pens are available at Fook Hing Trading Co.