Italian fine writing instruments manufacturer Visconti SRL presents the Opera Crystal 2016 Dark Age – a fountain pen which brings together the timeless elegance of a clear demonstrator construction with cutting edge mirror black accents.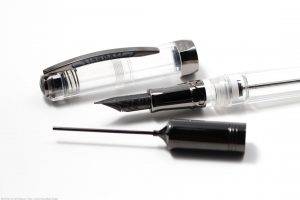 The Limited Edition fountain pen is a special collaboration between distributor Asia Creation Marketing and Hong Kong retailer Winner Pens Collection. It comes in a 68-piece Limited Edition available only in Hong Kong and South East Asia. 40 pieces will retail in Hong Kong while 28 pieces are allocated to Asia Creation Marketing.
The fountain pen features a transparent Acryloid barrel contrasted by a Ruthenium-plated nib and trims. It is fitted with a Chromium-18 Smartouch nib, engineered to wrap around the feed and prevent dryouts. A patented Mosquito filling attachment facilitates clean and efficient operation down to the last drop of ink.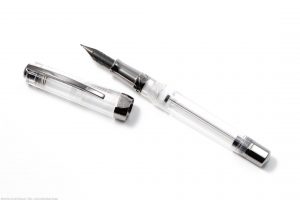 Clear demonstrator with Ruthenium accents
Numbered, Limited Edition of 68-pieces
Chromium-18 tubular nib, Mosquito filler
Double reservoir power filler
Available exclusively in Hong Kong, Singapore
The Opera Crystal 2016 Dark Age is handmade in Italy and retails for S$1200. It is available from 19th May 2016 from Winner Pen Collection in Hong Kong, as well as in Singapore at Aesthetic Bay and Fook Hing Trading Co.
Photos: Nicholas Yeo / Inky Passion for Asia Creation Marketing