The Singapore Fountain Pen Lovers group concluded the month of May with a meet at the Tea Party Cafe in Amnios, Biopolis. The three hour event, held on the evening of 30th May, saw the attendance of over 80 participants of all ages.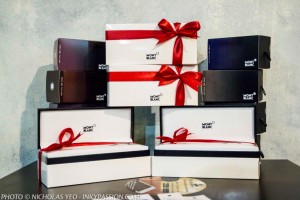 The May meet was sponsored by Fook Hing Trading Co in collaboration with Mont Blanc – the latest in a series of big brands which have made a showing at the group's monthly events. Previous meets have seen brands like Faber Castell and Pelikan, amongst others.
This time, prizes included two newly released Mont Blanc Starwalker Urban Speed fountain pens, Meisterstuck pouches as well as twenty bottles of ink. Participants were also given the chance to sample eight bottles of Mont Blanc inks with glass dip pens. The ink tester table is becoming a regular fixture at pen meets here.
Mont Blanc's Starwalker Urban Speed is one of the latest offerings in the Mont Blanc collection, easily distinguished by a distinctive red stripe lacquered onto its clip. The fountain pen features PVD plated accents as well as a ruthenium plated 14K gold nib. The pen is intended for use with cartridges, but standard German converters will also work.
Bloggers Maybelline Tan of On Fountain Pens and Junee Lim of Alt Haven were at the meet. Also present were local nib workers Mr Sunny Koh of Straits Pen as well as Mr Urner Hoo of Flexy Nibs. Urner is well known for his customisation of nibs for added flex and line variation.
On behalf of the Singapore Fountain Pen Lovers group, Inky Passion would like to thank Fook Hing Trading Co and Mont Blanc for their support and generous sponsorship.
Here is a gallery of photos for those who missed the event…