This review and giveaway is sponsored by Mr Sunny Koh of Straits Pen LLC and brought to you by Inky Passion. Inky Passion is in no way affiliated to Straits Pen LLC.

Straits Pen is the Singapore distributor for Curnow brand journals, among others. Straits Pen also provides nib customisation and repair services and stocks a variety of inks and fountain pen accessories. For more information about how to participate, simply refer to the bottom of this post.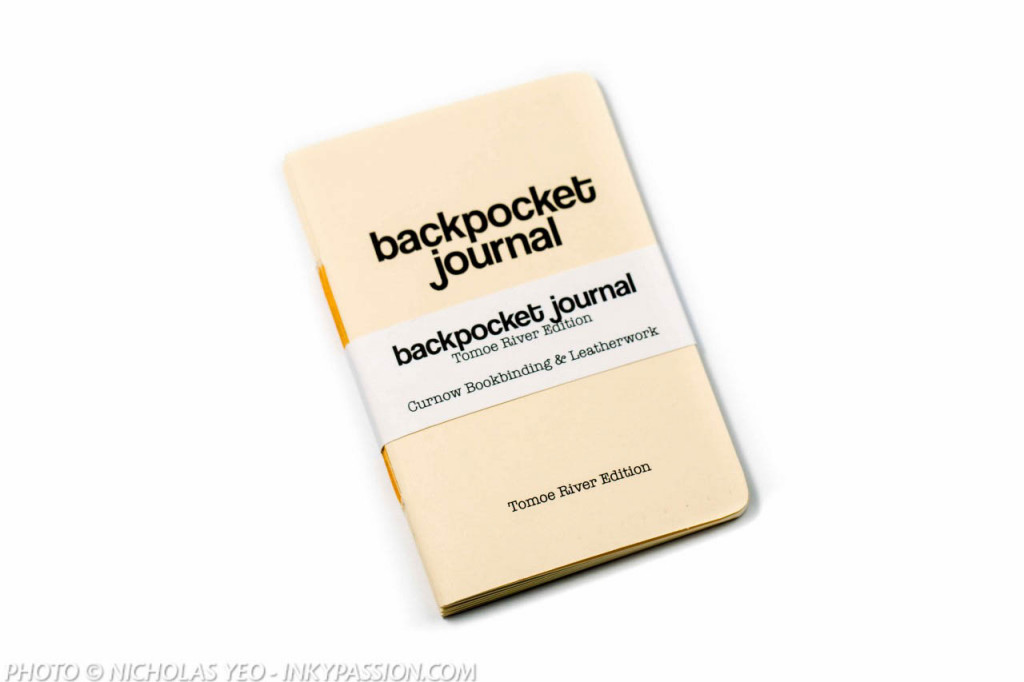 The Curnow Backpocket Journal is a Cahier-style notebook which features fountain pen friendly paper. The 48 page thread-bound notebook is manufactured by Curnow Bookbinding and Leatherworks in the United States and features Tomoe River paper from Japan. A larger 80 page "Backpack" notebook in A5 is also available. Curnow products closely resemble the Field Notes brand of notebooks and are available with a variety of cover illustrations.

Tomoe River paper is arguably the best paper for use with fountain pens – the cream coloured paper is extremely smooth to the touch and made from very fine paper fibres. It also resists feathering and bleedthrough. Ironically, some may find that the paper is too smooth for their liking and unsuitable for broader and wetter fountain pens. I found the paper comfortable to use with my Sailor Professional Gear and Namiki Capless.
The only real caveat with Tomoe River paper is this – because it is so thin, it is prone to creases and showthrough. In fact, Tomoe River paper is so prone to creases that it would not be recommended to flip back and forth between the pages or put the notebook in one's back pocket as its name suggests. Thankfully, each journal only contains 40 pages so the book would not look too battered. (This immediately calls to mind local dialect for salted vegetables.) That aside, who prefer thicker paper will be glad to know that Curnow journals are also available with normal fountain pen friendly paper.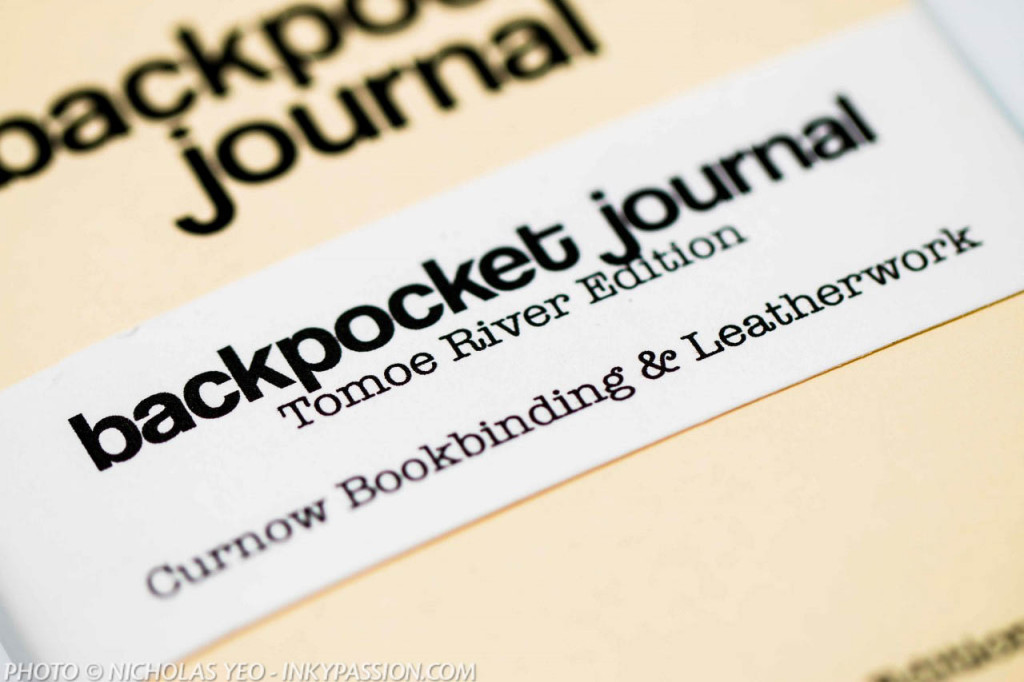 Curnow Bookbinding is a startup by hobbyist and fountain pen lover Steve Curnow, who lists his offerings for order on his Facebook page. Like many fountain pen lovers, the retiree faced issues finding reliable paper for use with his fountain pens and eventually decided to create his own notebooks to fit his needs. The company also offers custom bookbinding services and leather products such as notebook covers.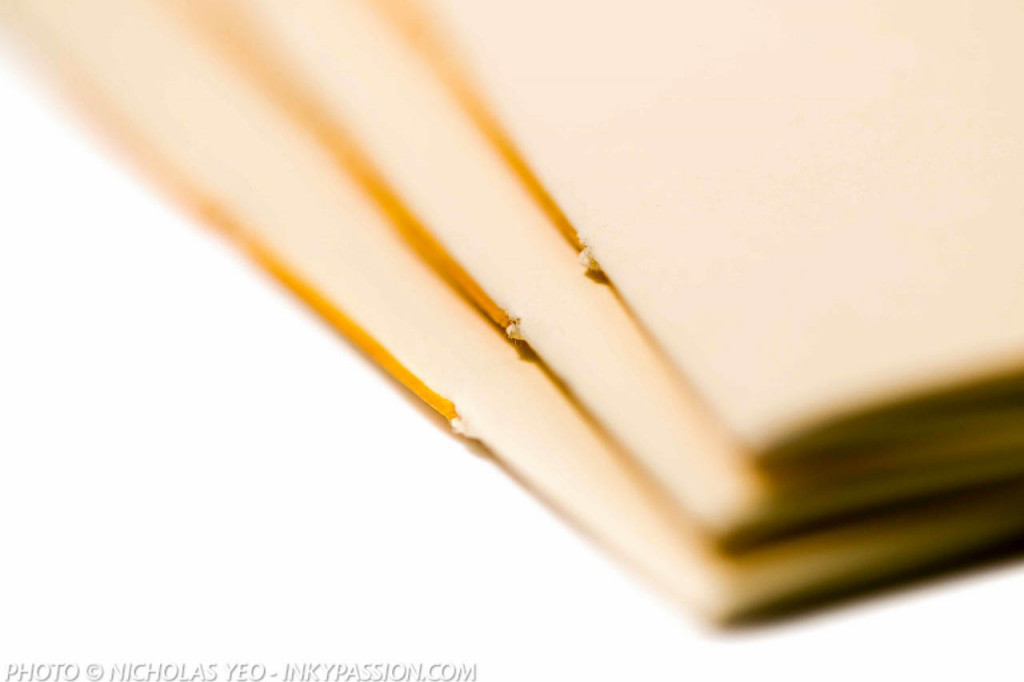 Backpocket Journals come in a pack of three and they are also available in a specially designed "Ink Tester" format which features printed ink evaluation templates. A pack of Backpocket Journals retails at S$21 while a pack of Ink Tester Journals retails at S$16. Backpack journals cost S$14 each. Unfortunately, Curnow Journals do not come in a lined format at this time.
Curnow Backpocket Journals and Backpack Journals are available locally from Straits Pen or directly from the Curnow Facebook page.
Click on the following photos to examine the product and writing test up close:
Giveaway
THIS GIVEAWAY HAS ENDED!
CONGRATULATIONS TO RYAN ELIJAH MARTIN ANG FOR BEING THE PERSON WITH THE MOST CREATIVE COMMENT AND WINNING A PAIR OF CURNOW JOURNALS!
Here is what he wrote:
Long nights on rivers cold
Amidst the silhouettes of cherry by the bank
Words trickling down my neck

When the counter-glow of morning
Slides onto stained keys and LEDs
Truth bore out awakening

A creator god needs no clay
Lesser mortals etch in mud and stone and tree
I tread thus the middle path – I ride the Tomoe river
In order to participate, simply leave a comment at my post on the Singapore Fountain Pen Lovers Facebook page telling us what you like about Curnow Backpocket Journals and/or why you deserve to win. The person with the most creative of the first 10 comments will be the winner of two Curnow Backpocket Journals, and will be contacted shortly for his/her mailing address. Don't forget to drop by Straits Pen to thank them for being the kind sponsor of this giveaway!
Inky Passion reserves the right to select the winner of this giveaway. The giveaway is only open to local residents who are members of the Singapore Fountain Pen Lovers page.
Good luck!